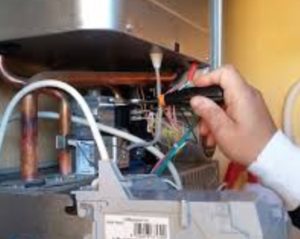 Our plumbers and technicians offer a complete range of heating services and cooling services. This includes boil inspection, installation and repair, all services designed to meet a customer's needs and budget.
Our boiler services are many and include: boiler repair and maintenance, including tune ups and installations, as well as repairing and improving boiler controls and writing and heat exchanges for all brands of boiler.
We also fix steam traps and condensate, as well as water treatment systems.
Our team of professional boiler system technicians have more than enough expertise to accurately and efficiently assess the condition of your equipment and then make recommendations that will be best for your building.
We also offer some of the most energy efficient boilers intended to save owners money on their utility costs in the long run.
Every installation is different and we work to ensure that our procedures are intended to suit your specific needs. Our company is fully accredited which ensures certified installation.
We can also provide both servicing and repair work for boilers that are already installed. Our technicians are more than happy to provide our customers with advice on their needs.
Each and every boiler our company installs is rated high in terms of energy efficiency. Our experts are quite willing to visit your location to discuss the full range of possibilities and options for boilers.
You will even learn about the latest technology that can help our customers get everything they can out of their boilers.
Home visits are totally free and our company offers a wide range of financing options to ensure that our customers can pay in a way that suits them.
The exact type of system you choose depends totally upon your needs and our technicians will help you decide which one is best.
Our best efforts involve making boiler installation uncomplicated, painless, and quick. We do our best to ensure that our customers' daily lives are not seriously disrupted as our technicians work as discretely as possible.
All the surrounding surfaces are covered up to ensure that no mess is left our when we're done.
The materials we need for each job are dropped off ahead of time to give our installers a jump start. Documentation and records are provided to our customers as well, so that if a customers wishes to get rid of a boiler, all the necessary paperwork is already in place.
Our guarantees vary between time periods, typically between 3 or 5 years. In addition to providing efficient service, we also work to provide spare parts so our customers can save time and money that would have otherwise been spent on sourcing the parts.
Every engineer our company carries a number of certifications and many years of experience. Our technicians are regularly trained with the most recent technologies and most advanced procedures in boiler installation and repair.
Call us today so we can schedule your free boiler estimate. We service every brand under the sun, including; Well-McLain, Utia, Williams, Burnham, Peerless, Carrier, New Yorker, Baxi, Navien, Bryant, Buderus, HB Smith, American Standard and Goodman.
Calling our company will provide you with courteous and skilled technicians that will exceed your expectations.
We hope to serve all your plumbing, heating and air conditioning needs, as well as installing these system on top of that.
We are your best option for all your plumbing and HVAC repair and replacement needs.
Our commitment is to you, our customers, and to provide you with the best HVAC and plumbing services in the region. We have a 100% satisfaction guarantee, all hours emergency service, solid warranties and some of the most dedicated technicians in the industry.
We can fix any brand of heating system or air conditioning system, including boilers, no matter where they came from.