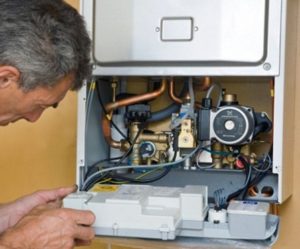 Our technicians and plumbers offer residents and businesses in the Milwaukee area a total spectrum of necessary heating and cooling services, which include boiler inspection, repairs, replacement, and installations, all of which meet budgets and needs.
Our particular boiler services include but are not limited to water treatment systems, steam traps and condensate, all brand, heat exchangers, boiler controls and wiring, tune-ups and installation, and boiler service and repair.
Our team of professionals who work on boiler services have industry experience and expertise that lets them assess any equipment state accurately, so they can make specific recommendations that serve your home best. We also offer energy-efficient boilers which can save you money on your long-running utility bills over time.
We're the most experienced business for boiler installation. Our staff of technicians are very well trained and specialized specifically in doing boiler installations. Each installation we do is a unique situation, and we have developed the processes that will suit you and your home's needs. Our establishment is accredited, so you know our installations are certified and guaranteed. We also do boiler servicing and repairs. Our friendly technicians happily give you consultation and advice on your particular needs.
Each boiler we install comes highly rated in energy efficiency matters. The experts on our staff can come out to your own location to go over options and what possibilities there are. You can even get introduced to modern technology that might make the most of your boiler.
We offer free home visits and also provide a variety of financing options that can make life more convenient for you. The kind of system that you pick really just depends on your own requirements, but our team of experts can guide you through this decision-making process.
We make all our work involving boiler installations quick and simple. You don't have to worry about disruption to your daily activities, as we work incredibly discreetly. We cover all surrounding surfaces so that there's no mess left when we're done. Any materials we need for an installation are dropped off earlier, so our installers get a jump start on their work.
Before we actually start, you get a brief on anything essential regarding your boiler and its handling. You'll be provided records and documentation, so that if you choose to be rid of that boiler, you'll have the necessary paperwork.
We have a number of varying guarantees across different time periods, be it 3- or 5-year guarantees. On top of providing you efficient service, we also have spare parts, which save you both time and money that might have been spent looking for them. Every one of our engineers comes backed with years of professional experience and the appropriate certifications. We make sure that training is a regular thing so that they can use the latest and greatest technology and procedures when installing your boiler.
Call us right away for a free Boiler estimate!
We provide service for every brand, including: American Standard, Goodman, Navien, Baxi, New Yorker, Bryant, Carrier, Buderus, HB Smith, Peerless, Williams, Utica, Weil-McLain, and Burnham
We know that when you call us, you're going to be surprised by how well our technicians meet and exceed your expectations with their experience, knowledge, and courtesy. We serve all the communities and suburbs in our area, and we eagerly anticipate being your solution provider to plumbing and HVAC installation and repair needs.
Our business is the best choice in the regional industry for anything you need regarding plumbing, heating or air conditioner replacement and repairs. We demonstrate our commitment to you with a 100-percent guarantee on all our HVAC and plumbing services. We have 24-hour emergency boiler repair availability, a robust warranty, and the most dedicated technicians in the business. No matter what brand or model of heating system, boiler, or air conditioner you have, we can fix them all, regardless of where you bought them from!