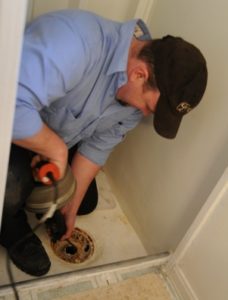 It is easy to take things for granted in life, and your plumbing is often one of them. A home's plumbing system tends to get lots of wear and tear, but we only think about the inner workings of the pipes when there is a problem. This is the time we really notice how important it is to take care of one's pluming.
The following offers some useful advice that can keep your plumbing working well and prevent costly and time-consuming repairs.
Steer Clear Of De-Cloggers
Toilets, sinks and drains are prone to clogs, and this is a fact of life. There are chemical agents available on the market that claim to alleviate these clogs. Keep in mind that these are not a great idea and can cause more harm than good over the long term. Thus, try to steer clear of their use. Drain augers or vacuum tools may be much more effective and safer to use.
Keep Grease Out Of Your Drain
In a time crunch, you may be tempted to pour grease down the sink because it seems to disappear just as the water does. But, if this happens often, there will be a serious buildup that eventually causes a clog. You will then be forced to spend valuable time and perhaps also money to remedy the situation. Therefore, find another way to dispose of your household grease and oil.
Learn About Your Own Plumbing
You need not train yourself in every aspect of plumbing systems, but it is smart to become familiar with the basic functions of your home's pipes. If you have a main pipe burst, it is helpful to be able to shut off the main valve to limit the amount of harm sustained.
Increase Accessibility Of Access Points
You would hate to call a plumber only to have him or her waste time moving things around in your house simply to access the pipes and drains. Keep these areas clear of items and obstacles so that emergencies can be quickly handled.
The ideas above are just some of the ways you can prepare yourself to deal with plumbing situations that may arise in your house. Of course, if you encounter a scenario that is beyond your capabilities, we hope you will contact us right away for professional plumbing assistance. We know how stressful plumbing problems can be, and we stand ready to bring our training and knowledge to bear. We are committed to getting your plumbing back up and running like normal in no time at all.