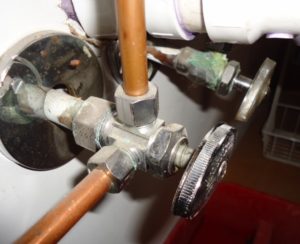 Some plumbing leaks are noticeable, while others are very difficult to detect, unless you have a good idea of what to search for. Leaks that are hard to see or find can cause a lot of damage, far more than the leaks that are noticeable. Many people don't realize that plastic parts are found in many of the faucets and handles on the market, and these parts can easily crack when they are used frequently.
When such parts crack or become damaged, then water leaks can occur. These types of leaks can accumulate in a specific area. In turn, you'll have to perform a thorough inspection in order to see if damage has occurred.
Here's what to look for:
Paint that is peeling
Drywall that is bulging
Mildew or mold, especially in a place that should be completely dry
Mineral deposits
Insects
Sagging wood behind the wall
Floor tiles that are loose or buckling
There are cases in in which leaks won't be from drains or sinks. They can sometimes be because of the shut-off valves, which can be found behind the sink or just underneath it. If these valves are damaged, then you should replace them right away.
Valves need to be replaced when damaged. This is because the leak will only get worse as time goes by. In turn, more damage will end up occurring.
It is important to protect your home from leaks because doing so will save you cash. As soon as problems are discovered, then you'll want to solve them right away. Signs such as rust around valves, drains and fixtures are indicates that moisture is going to places where it doesn't belong.
Inspect your home. Look in places such as under the washer, under the sink or under your dishwasher. Don't forget to search around fixtures in your bathroom.
Don't attempt to fix leaks and damage yourself. Having leaks and plumbing damage isn't anything to be embarrassed about. Always contact a professional plumber to handle all of your repairs.