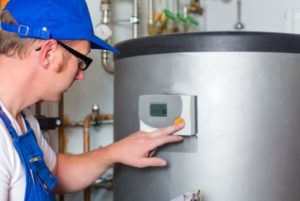 A water heater is a wonderful commodity that supplies all the necessary warm water household needs of a family, from bathing to cooking and washing up. However, there are many issues and problems associated with water heaters that most homeowners have to deal with on a regular basis. Some of these include not having enough hot water to supply the needs of all family members or sometimes the appliance may spring a leak. Listed below are some of the more common causes of water heater problems that occur and how to take proactive measures to prevent expensive repairs or even complete replacement of the entire unit.
• Leaks
Leaks are one of the most common problems that plumbing contractors, in general, have to deal with. A clear indication that there is a leak is when a puddle of water is visible around the bottom of the heater or there is a trail of water leading to the tank. One of the most common causes of a leak is a crack in the internal wall of the tank. When this happens, the only solution is to have the entire unit replaced.

Another common problem is corrosion caused by minerals in the water that react with steel over a period of time. Once this occurs you should contact your local plumbing contractor in Milwaukee to determine the extent of the damage. Sometimes a complete replacement may be necessary, however, if the leak originates from the top of the tank a plumbing contractor should be called in to do the necessary repairs as this type of problem may be due to the malfunction of a plumbing part.
• Not Enough Hot Water or No Hot Water
This is another common problem frequently encountered by plumbing contractors. If it is a gas water heater the pilot light may have gone out. The pilot light can easily be lit again, however, if you have never done this before or you are in any way unsure how to go about it you should call your local plumbing contractor to safely reignite the flame. With an electric water heater, it is a good idea to first check if your circuit breaker has tripped before calling in a plumber.
If there is no evidence of a leak but not enough hot water is coming out of the tank, you can try flushing the tank as a build-up of mineral deposits may be the cause of reduced efficiency. Sediment build-up generally occurs with aging which can restrict the amount of hot water that flows through the system. Flushing the tank is a quick way to repair a water heater that does not produce enough hot water.
Contact Your Local Plumbing Contractor in Milwaukee, WI For More Information
The above mentioned issues are just some of the problems most commonly experienced by homeowners. If you have a problem with your water heater that falls outside the issued listed above, you should immediately contact your local plumbing contractor to check the appliance for specific issues that may be causing you problems. Sometimes all that is needed is a quick repair job, however, it is always best to consult a professional expert to advise you on the necessity for a replacement.